Patz
Patz Model 1512 Manure Pump
Plunger Size: 7 x 15 in.
Stroke Lengths: 20 in., 17 in. and 14 in.
Hole Size for Pump Installation: 5 ft. wide x 14 ft. long x 7 ft. 3in. deep (approximately).
Floor Space Required for Pump: 3 ft. 2 in. x 11 ft. (approximately).
Weight: 2,350 lb. (approximately).
Safety Railing: Standard equipment.
Pipe Length: Recommended maximum length of pipe with no elbows, 150 ft. Deduct 5 ft. for each 22-1/2° elbow used and 10 ft. for each 45° elbow. Up to 90° of elbows may be used in one installation.
Pipe Size: Choose 15" or 12" PVC pipe.
Storage Height (Head): Maximum storage height (head) is 25 ft.
This is measured from center line of pipe at manure pump to top of manure in storage area.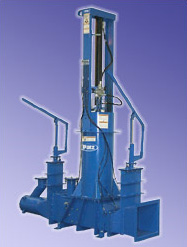 Patz Model 2016 Tundra™ Pro Hydraulic Pump
Overview
Efficiently Move Heavy Manure Long Distances Using Minimal HP!
Features & Benefits
Tundra™ Pro Pump is designed with your operation in mind!
Handles sand or sawdust laden slurry manure.
Consistently transfers slurry manure long distances – up to 600 ft.!
Energy efficient – hydraulically powered using 5 or 7-1/2 HP.
Uses the largest diameter stainless steel cylinder in the industry to move manure efficiently.
Cylinder's piston includes oil lubricated seals for maximum volume efficiency and long working life! Seals are oxygen and ozone resisting.
Up to 150 GPM pumping capacity.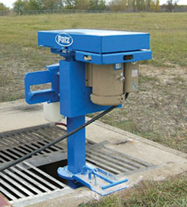 Patz Model 616 Electric Prop Agitator
High-performance vertical prop agitator provides a consistent blend and keeps solids suspended for pumping!
Easy-to-install anchored pivot allows precise positioning to agitate entire pit
Choice of agitation volumes
Unique seal system extends gearbox and bearing life
Abrasion-resisting steel propeller blades & shear plate with stainless steel hardware below the liquid line for long life
Easy lube – convenient 'above pit' oil and grease lines
Agitator available in various lengths 6 to 16 feet (1.8 to 4.8 m)
Energy Efficient—low horsepower requirements
---